Hot Lunch dates and ordering are available now until the end of June.
Visit your MunchaLunch account to order.  Thank you to our PAC Hot Lunch parents for their time, fundraising efforts and for feeding us!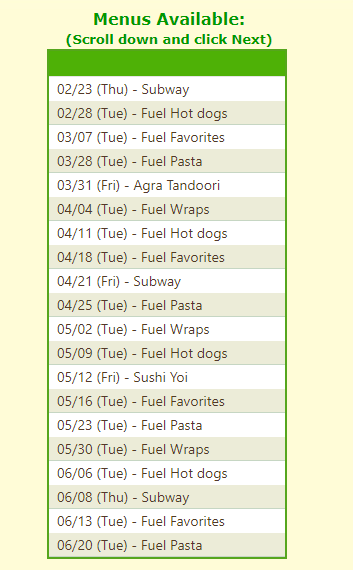 ---
Dear Parents
Our much-loved hot lunch program is back and well underway!
We have selected Fuel Catering as our main catered provider on Tuesdays and will add a few additional days from other providers such as Fatih's pizza, White Spot, Subway and others throughout the year.
The MunchaLunch website is open to take orders.  The deadline to get your order in, is 7 school days before the delivery date.
****Please note new families to the school will need to either set up a NEW munch a lunch profile or transfer the profile to our school,  parents who used Munchalunch last year at Brentwood Park will just need to update their children's class*****
We encourage parents to order for multiple (or all) hot lunch dates in one purchase to reduce the chance of missing a hot lunch deadline, but also to reduce the cost of the credit card transaction fees the PAC pays for each payment.
New this year is the opportunity to "Pay it Forward" – where parents can pay for one or more hot lunches for children at our school that, due to financial reasons, are not able to participate in hot lunch days. The funds received from this Pay it Forward fundraiser will be pooled and distributed to families at our school towards hot lunch. Click on the yellow "Fundraiser Open" tab to pay it forward.
Thank you in advance for ordering hot lunch service – Hot lunches are part of PAC fundraising, so a small portion of the hot lunch price goes to the PAC to support our yearly programs. We hope your children enjoy the food and families get a bit of a break from making lunches. Any parent who would like to help with hot lunch, either for distribution during school hours or administration, please sign up to volunteer here.
All the Best,
Erika, Prachi, Lisa and Suzy (PAC Executives)